TomTom Car Kit For The iPhone
Posted by Richard on Thursday, September 24, 2009 in Industry News • Apps • TomTom • (1) Comments • Permalink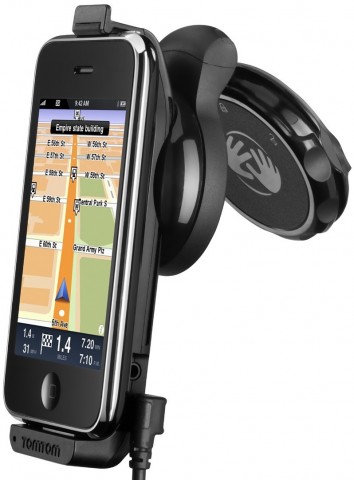 TomnTom have issued a statement about the price of the "coming soon" car kit for the iPhone.
The TomTom iPhone app is currently being sold for £60 in the UK but is still missing its buddy and friend, the purpose built "TomTom Car Kit for iPhone."
This morning it looked as if we would finally be able to get our hands on one of the new car kits when the UK Apple store posted details about the product.
Apple had posted an ad that stated the car kit was available for pre-order and at £99.95 you would receive the car kit as well as the TomTom navigation app.
"You get both the TomTom navigation app for your iPhone 3GS or 3G and the docking kit to hold your iPhone securely in place on your dashboard or windscreen," The ad said.
The car kit promises safe and secure docking of your iPhone as well as the freedom to take calls and play your favorite tunes over your car stereo. Along with the mount, the car kit has an enhanced GPS receiver, power cables and a built in speaker.
For just less than a £100, considering you get the TomTom navigation app too, this all sounded pretty reasonable. Like I pointed out though, this was this morning!
Since this morning the Apple ad has been taken down and TomTom have issued a statement saying the £99.95 price tag will not include the navigation app.
TomTom says: "The TomTom car kit will be available this October and will be sold separately from the TomTom app. It will be compatible with the iPhone 2G, 3G and 3GS".
I'll keep you posted on any further announcements.